Conveniently located 30 minutes from Wichita, Kingman County is a rural community with deep ties to agriculture and turn of the century architecture. Our size and Kansas-friendly lifestyle provide businesses a personal touch and a low-stress environment. It's location keeps commute times to metropolitan areas short and serves a tertiary market to the more populated areas of Pratt, Hutchinson, and Sedgwick County. The county itself is home to 7152 residents. Many who grew up within the community choose to stay because of the amenities Kingman County offers. Kingman County's newer residents find the access to healthcare, education, and shopping comparable to similarly-sized towns. In the City of Kingman, Residents and visitors alike enjoy original red brick streets that run through the City's historic downtown. Recent improvements to several city centers and a regional population of over 630,000 helps keep Kingman County a vibrant thriving community. Our size and rural lifestyle provide businesses a personal touch and a low-stress environment.
The labor force population within a 45-mile commute of the county seat of Kingman is 313,073. Although the population of Kingman County is 7340, there are over 630,000 people located within the region. Short commutes and an experienced workforce drive economic growth and small class sizes attract families looking for a more individualized education for their children. Retirees enjoy a robust healthcare system that allows for specialty clinics from practitioners located in Pratt, Hutchinson, and Wichita.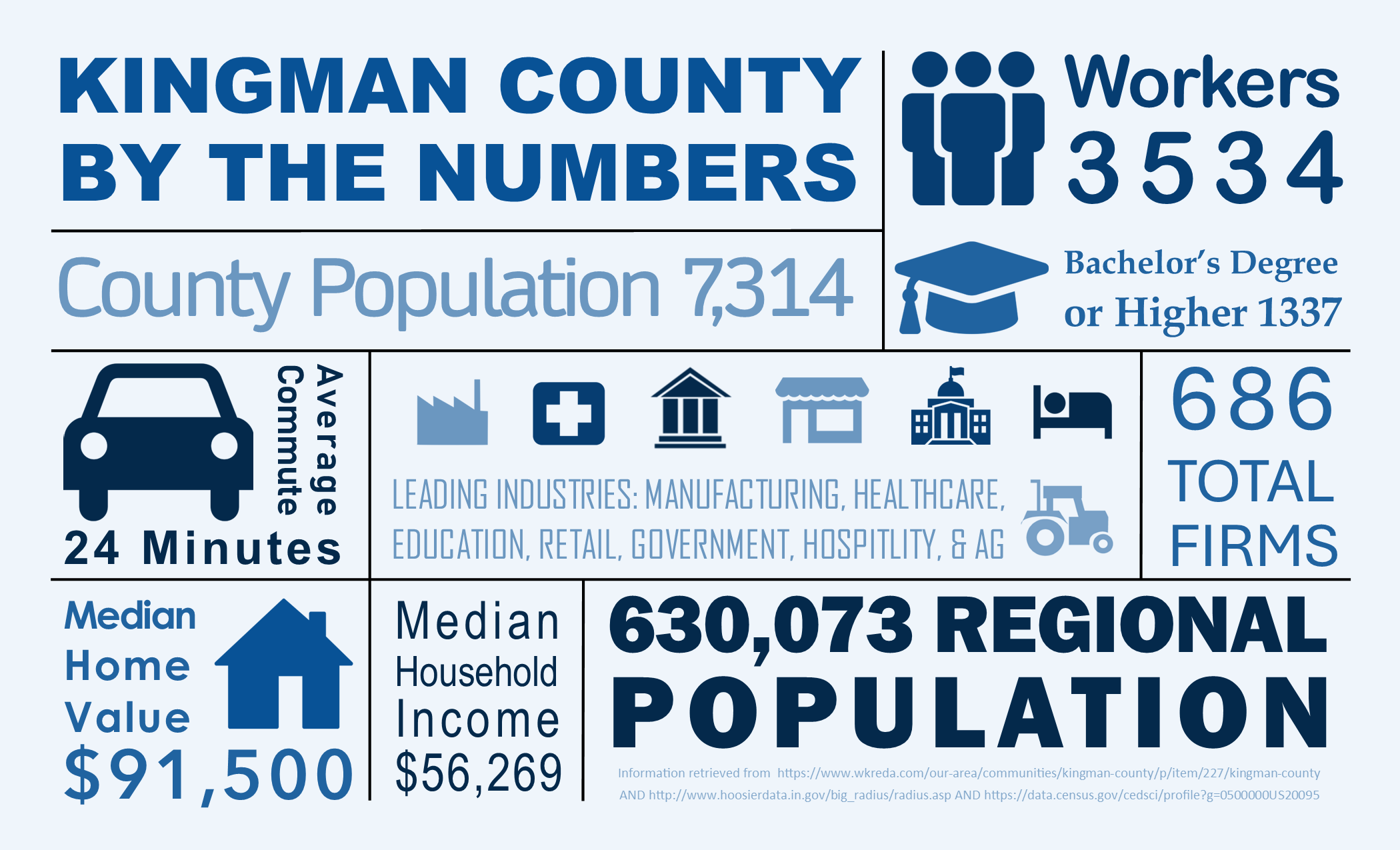 Great Lakes Polymer Technologies (GLPT) is the global leader of innovative polymer engineering.

Kingman Healthcare Center is a 25-bed Critical Access Hospital with a Level IV Trauma Emergency Department.


Wheatlands Health Care Center is a premier Continuing Care Retirement Community in Kingman, Kansas.


Farrar Corporation is a leading supplier of ductile iron castings and quality machined components.

Hilltop Manor offers

skilled nursing

that is warm, personal, and devoted to each individual, experience matters.

Neville Built Trailers has developed into one of the leading trailer manufacturers in the Midwest.


White's Foodliner provides quality food products & merchandise at competitive prices.

Don Dye manufactures V-Belt & Flat Idler Drive Pulleys for Agriculture, Industry, and Home.




Mize & Company is dedicated to quality, our customers, and our staff.




Skyland Grain, LLC is a grain farmers' co-op providing producers with the supplies and services their operations need to succeed today and in the future.



AGRICULTURE

Kingman County Has 740 farms encompassing 516,728 acres. Sixty-three percent of farmland is used for crops with the remaining balance used for livestock. Total producers number 1,189 and the ad industry employees another 364 individuals within the county.

OIL, GAS, WIND

As of December 2019, Kingman County ranked #333 nationally in oil & gas production and #23 within the state of Kansas. Windfarms dot the country's landscape and plan to develop additional windfarms are underway.

MANUFACTURING

Supporting 573 jobs in, manufacturing plays an important role in Kingman County's economy. Four manufacturing firms rank in six of the county's top 20 employers manufacture a number of agricultural products, wire harnesses, and aerospace parts.

HEALTHCARE

The median age of residents in Kingman County continually ranks above the national average. That's why nearly 10% of the workforce is in healthcare. The total economic impact of the health sector is nearly $19,000,000.
Kingman-A Great Place to Land
The City of Kingman is the County Seat and its population center. The City of Kingman's walkable downtown district features exciting dining, shopping, entertainment experiences, and six buildings on the National Register of Historic Places. The City recently completed a 20-year comprehensive development plan outlining goals and objectives for its continued vitality. A new master park plan focuses on enriching and expanding the quality of life and place in Kingman. You can also stay up to date with Kingman on their website and on Facebook.
The City of Norwich is in the southeast part of the county and with a population hovering around 500 is also home to one of the country's largest employers. Norwich also maintains grass airstrips at its airport and is conveniently located on State Highway 42. Its rural moniker has not prevented it from thriving. Norwich's Main Street can boast that its buildings are at full capacity. Norwich also hosts Main Street Drags, a popular car show a drag racing event held in April. You can also stay up to date with Norwich on their website and on Facebook.
The City of Cunningham is located east of Pratt and is a popular stopping point on US Highway 54/400 because of its easy access to fuel and food. The town has recently experienced a resurgence that in 2018 saw more new homes constructed per capital than much of the balance of the state. You can also stay up to date with Cunningham on their website and on Facebook.
Zenda is home to 90 residents. But don't let the size fool you, Zenda is home to the renowned Lumberyard Restaurant. The restaurant was in fact a lumberyard that operated from 1902 to 1991. Zenda is also home to the Zenda Jail, a popular photo opportunity in this small rural community. For more information about Zenda, visit the Kingman County Website
Nashville is located in the southwest corner of the county. It's home to 41 active residents who have recently made significant improvements to the community located on Highway 42. For more information about Nashville, visit the Kingman County Website
Spivey is home to several oil and gas firms and 31 residents. It's located at on Highway 42, just west of Highway 14. Spivey is also near the Chikaskia River. For more information on Spivey, visit the Kingman County Website
While the US Census estimated population of Penalosa, KS was 2, the population is at least double. Penalosa is the county's smallest incorporated city. Penalosa is located near popular hunting grounds and the Kingman State Lake. For more information on Penalosa, visit the Kingman County Website